(Want to start with District 1?)
Forget fishing, District 4 brought us FINNICK.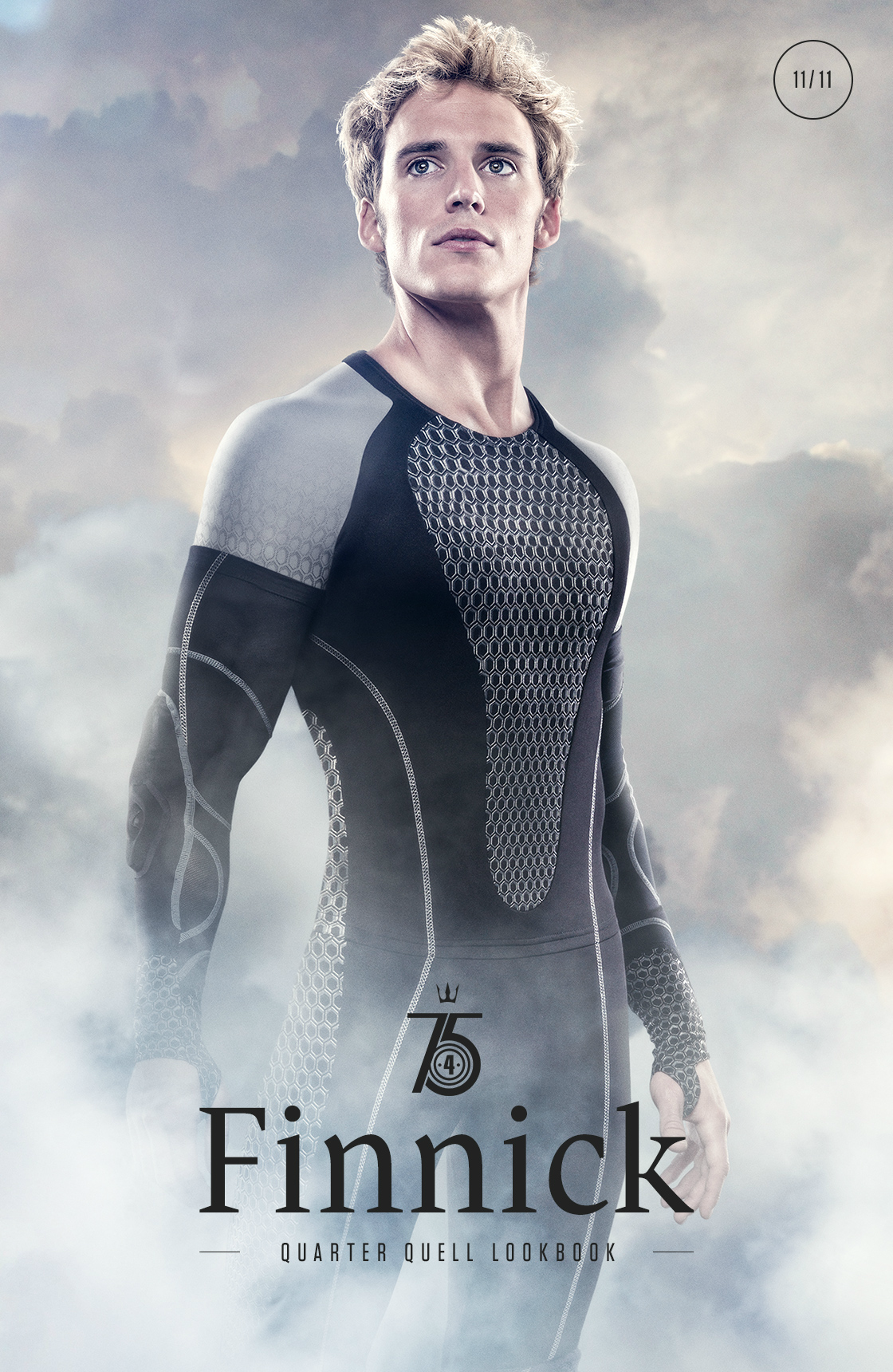 Finnick Odair, District 4 tribute.
'Nuff said.
It also brings us the bread that had me the most nervous to make in this series: a salty fish-shaped bread containing seaweed and tinted green, as described by Suzanne Collins in
Catching Fire
. But to my great surprise, I actually
like
this one!
District 4: Seaweed Soft Pretzels.
After scouring the internet for breads containing seaweed--none of which looked particularly appetizing--I ultimately decided to try adapting my go-to
soft pretzel recipe
instead.
That was the right choice
. I added seaweed to the dough, twisted them into a fish shape (well, sort of...we'll get to that), and used sea salt instead of rock salt, and they taste
delicious
.
You'll need:
Dough:

1 sheet nori seaweed
1/4 cup filtered water
1 1/2 cups warm water
1 1/8 tsp active dry yeast (1 package)
2 Tbsp brown sugar
1 1/8 tsp salt
1 cup bread flour
3+ cups all-purpose flour
1 sheet nori seaweed
Green food coloring (optional)

Soda bath:

2 cups warm water
2 Tbsp baking soda

Topping:

3 Tbsp butter
Fresh-ground sea salt, to taste
Ingredients.
I've never cooked with seaweed. I had no idea what kind to get, especially since I was pretty much winging it with my own recipe, so I let my husband pick up whatever he could find while he was at a local Vietnamese market (I love Atlanta).
Nori seaweed.
He came home with a package of sheets of nori, so I Googled nori--and still wasn't really sure what to do with it....After reading about how to rehydrate seaweed (though apparently nori doesn't usually need to be rehydrated, since it's made for making sushi), I decided the best course was to crumple up one of the sheets...
...into little pieces...
...and add 1/4 cup filtered water:
I let it sit for about half an hour while I mixed the other ingredients for the dough and chased my kids around the house.
While the seaweed rehydrates, dissolve the yeast in the warm water, in your mixing bowl:
Add the salt and brown sugar:
First tablespoon of brown sugar already sank out of sight.
Stir to dissolve:
Add the flours (1 cup bread, 3 cups all-purpose):
While your mixer does the work, check on your seaweed--I'd taken enough breaks with my kids by this point that my seaweed had soaked up most of the water:
Fish it out of the bowl and put it on a paper-towel-covered plate to drain the excess water:
Since this was an experiment to find the best way to make a bread closely resembling Collins' description, but I wasn't keen on wasting the whole batch of soft pretzels (which are ordinarily
scrumptious
) if I didn't like the taste of seaweed, I split my dough in half:
I decided to play around with green food coloring to go for that green tint Collins' described:
In the end, I added five drops of green food coloring gel--but if you want to add the tint, start with just a little of the food coloring, and see how far it goes. You can always add more, but you don't want it
too
green! Ultimately, I actually preferred the look of the bread that
didn't
have any food coloring. I figure even if the seaweed doesn't change the color of the dough, seeing enough green specks can make one
think
it has a greenish tint, too--maybe Katniss was just seeing the green from the seaweed...I think I'll go with that theory. :-)
I mixed the food coloring in with my mixer at first, but ended up kneading it by hand the rest of the way to get it to spread more evenly (though I decided not to mix it in
too
evenly):
I set that dough aside in a clean bowl:
Next up was the half with seaweed--I put the dough in the mixing bowl and added a small handful of nori:
I didn't measure it--just eyeballed it. Start with a little, and you can add more to your liking as you go.
Again, I found that kneading it by hand mixed the seaweed in much more evenly than using my mixer's dough hook:
Once I was happy with the amount of seaweed in my dough (I didn't add any after that first handful--which was maybe a third of the sheet), I split in half again for more experimentation:
I added three drops of food coloring to one of them (and left the other untinted):
Here are all three portions:
Cover the dough with a clean towel:
Let the dough rise 30-60 minutes. I usually set a timer for 30 minutes, and start on the soda bath when it goes off...plus, my kids usually interrupt the process enough that it's risen for closer to 60 minutes by the time I'm ready to handle it! ;-)
For the soda bath, combine the warm water and baking soda in a bowl, stirring often:
(The baking soda has already mostly dissolved.)
Your dough should have risen by now:
Pinch of a chunk at a time and roll it into a rope:
Twist it into a simple fish shape:
Dunk it in the soda bath:
Place on a parchment-paper-covered (or greased) cookie sheet:
Fish! Ish.
Repeat for the remainder of your dough:
If you've read my original
soft pretzel post
, you'll recall how awkwardly horrible I am at making pretzel shapes...even my stick shapes are pretty bad (you'll find photographic evidence in that post). Turns out, I'm not much better at making fish. But here's my rationale: just because District 4 bread is notably fish-shaped does NOT mean that every single person in the whole district is good at making a perfect fish shape, right? I mean, these could totally be made by the one mom in the neighborhood whose fish come out as awkward twisty lumps. Her kids' friends snicker a little bit when they eat lunch at school, because, dude, Finnick's mom just
can't
quite get the shape right. Meanwhile, Chimaera's mom packed her a lunch of perfectly shaped bass, marlin, and friggin' swordfish bread...screw her.
Anyway.
Let the shaped dough rise 15-20 minutes, then bake at 450*F for 8-10 minutes (until golden brown):
MY FISH ARE SO BAD.
Melt your butter and brush your fish-shaped pretzels liberally with it:
Sprinkle with salt:
As you can see, I used my seaweed-less bread to experiment with the salt topping. I felt like fresh-ground sea salt was the most authentic option for District 4...
...but if that didn't taste right, I wanted to have the usual rock salt option as a back-up:
Fortunately, the sea salt looked and tasted great, so that's what I went with for the seaweed bread:
If you already KNOW it's a fish, you can totally see it, right? ...Right?
Even though I love soft pretzels, I was quite nervous to actually try the seaweed ones. I'm super picky (there's something wrong with my tongue), I'd never tried seaweed before, and there is no way to "hide" tastes I don't like in food, so I wasn't sure if I'd be able to stomach these. But they're actually pretty good! The seaweed taste is subtle, and not bad at all--for the most part, they taste just like my soft pretzels usually do. I made my brother try one, too, to get his opinion, and after the first bite, he eagerly took a plateful--though he did wonder about the shape until I told him they were fish... :-P
And for your cut-and-paste convenience:
Seaweed Soft Pretzels
Dough:

1 sheet nori seaweed
1/4 cup filtered water
1 1/2 cups warm water
1 1/8 tsp active dry yeast (1 package)
2 Tbsp brown sugar
1 1/8 tsp salt
1 cup bread flour
3+ cups all-purpose flour
1 sheet nori seaweed
Green food coloring (optional)

Soda bath:

2 cups warm water
2 Tbsp baking soda

Topping:

3 Tbsp butter
Fresh-ground sea salt, to taste
Crumple nori into small pieces in bowl; add 1/4 cup filtered water. Rehydrate 20-30 minutes; remove from bowl and place on paper towels to drain excess water.
In mixing bowl, dissolve yeast in warm water; stir. Add brown sugar and salt; stir to dissolve.
Add flours (1 cup bread flour, 3 cups all-purpose flour). Add additional flour in 1/4 cup increments as need until dough is smooth and elastic and no longer too sticky to handle.
Add seaweed, to taste, kneading by hand. Optional: add food coloring and knead by hand.
Cover dough and let rise 30-60 minutes.
For soda bath, combine warm water and baking soda in bowl, stirring often.
Pinch off a chunk of dough at a time, roll it into a rope, shape into a simple fish, and dunk into the soda bath. Place on parchment-paper-covered (or greased) cookie sheet. Let shaped fishes rise 15-20 minutes.
Bake at 450*F for 8-10 minutes or until golden brown.
Brush with melted butter and sprinkle with sea salt, to taste.
As usual, this week's main photo contains Easter eggs--references to other fandoms within the photo. Can you find them?
Can you find the Easter eggs?
There are two this time, but I'm going to give you another hint...though I've been sticking with currently popular fandoms up to this point, you're going to have to think a little old school for these ones!
(Also, FISH ARE GROSS. I had to touch it. EWWW.)
How'd you do last time? Ready for the reveal?
That's Sam and Dean Winchester's car from
Supernatural
in the foreground! Well, it's not
exactly
their car...I couldn't get a hold of a Matchbox 1967 Chevy Impala, so I bought the closest match I could find from that era, painted it black, and printed off a tiny graphic of their license plate to glue on (there's one in the front, too).
Let me know in the comments if you think you've found this week's Easter eggs! May the odds be ever in your favor! :-)
(Ready for District 5?)